Note: This press release was written by Spencer D. Wood, For more information contact him at: 785-532-7178, sdwood@k-state.edu.
MANHATTAN — Noted sociologist
Gay Seidman
will be visiting Kansas State University to deliver the 10th Annual Donald J. Adamchak Distinguished Lecture Monday, March 8th (International Women's Day) at 7 pm in Forum Hall of K-State Union. The lecture is free and open to the public.
Professor Seidman is the Conway-Bascom Professor of Sociology at the University of Wisconsin-Madison, director of their African Studies program, and an internationally recognized expert on global production, labor, and human rights. Her lecture,
Citizens, Markets, and Transnational Activism: Can Consumer Boycotts and Independent Monitoring End Sweatshops?
builds on her recent book,
Beyond the Boycott: Labor Rights, Human Rights and Transnational Activism
(Russell Sage, 2007). Professor Seidman has won graduate and undergraduate teaching awards, is a prolific scholar, and has experience as an anti-apartheid and human rights activist. In 1976 she became the first woman president of the Harvard Crimson, which under her leadership began covering the anti-apartheid movement earlier than most major US newspapers.

Professor Seidman's lecture provides important reminders and serious consideration of the human costs of global production. The lecture and discussion that follows will help us learn more about the labor conditions that yield our clothing, consumer goods, and much of what we eat.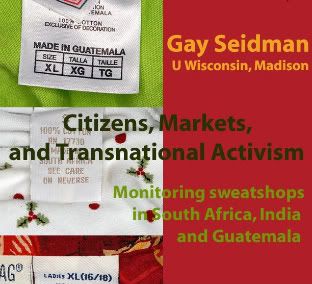 Each year since 2001, the Donald J. Adamchak Distinguished Lecture Series in the Department of Sociology, Anthropology and Social Work has presented stimulating speakers to the K-State campus and the wider community. The series covers a wide range of topics related to Professor Adamchak's own interests in demography, Africa and development studies. A major focus is the interaction between population processes and social issues in a variety of fields from political attitudes to public health, global developments to changes in the Great Plains.
Donald J. 'Adam' Adamchak (1952 – 2000) spent 22 years of his professional life at K-State. A prolific author, he had an inter- national reputation as a scholar in the area of aging and inter- generational support; fertility and family planning (particularly focusing on the role of men in decision making); gender relations and status of women; and knowledge, attitudes and practices regarding HIV/AIDS. He also conducted research on the consequences of demographic change in rural America.
A gifted and dedicated teacher, Adam prepared scores of sociology graduate students, many of them international, for careers in research and teaching in social demography. He was exceptionally active through his formal and informal mentoring of students in addition to his teaching. In recognition of his concern for and commitment to his students, the Graduate School awarded him its Distinguished Service Award.
Event sponsors include the K-State Department of Sociology, Anthropology, and Social Work, the Lou Douglas Lecture Series, and the K-State College of Arts and Sciences.